Anmelder: Dr Sreeraj Gopi, PhD, FRSC, FRSA, CChem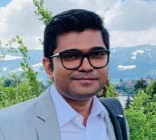 Med en doktorgrad i bio-nanomaterialer og nano-systemer for målrettet medikamentutlevering en FRSC & CCHem fra Royal Society of Chemistry, og som et chartret medlem av Royal Australian Chemical Institute, driver Dr Sreeraj Gopi ikke bare fortreffelighet innen sitt felt, men innovasjon også.
Hans dyptgående undersøkelser av botaniske stoffer, inkludert publiserte artikler om de biologiske aktivitetene til curcuminoider, en gjennomgang av anti-kreftegenskapene til naturlige polyfenoler, og en studie om naturlig sportstilskuddsformulering for fysisk utholdenhet, satte Dr Gopi i forkant av innovative plantebaserte produkter og teknologier.
Disse enestående utmerkelsene, kombinert med en medfødt lidenskap for gjestetaler og forelesninger, sikrer at hans ekspertkunnskap kan fortsette å påvirke utviklingen til nye forskere og forskere. Utvilsomt vil hans dyktighet med banebrytende patenter og formuleringer hjelpe Cibdol med å levere en førsteklasses velværeopplevelse.
Han har publisert mer enn 100 internasjonale artikler, og innlevert mer enn 75 internasjonale patenter inkludert i USA og Europa.
Han tjener som adjunkt ved mange universiteter som Stockholms universitet, Sverige, Siberian Federal University, Russland og Mahatma Gandhi University, India, og Gdansk University of Technology, Polen.
Priser og anerkjennelser
• Fullførte en doktorgrad fra Gdańsk University of Technology om "Bio nano-materialer".
• Fullførte en doktorgrad fra Deakin University, Australia på «Nano drug delivery».
• Tildelt FRSC (Fellow of Royal Society of Chemistry) fra Royal Society of Chemistry, London
• Nominert til prestisjetunge Alfred Deakin doktorgradsavhandlingsmedalje, av Deakin University, Australia
• Stipendiat ved American College of Nutrition, USA
• Tildelt CChem (Chartered Chemist) og CSci (Chartered Scientist) fra Royal Society of Chemistry, Landon
• Mottok prisen "Outstanding Industrial Scientist" fra MG University, India
• Chartered medlem av Royal Australian Chemical Institute (MRACI CChem)
• Medlem av Chemical Institute of Canada (MCIC)
• Medlem av American Chemical Society (ACS)
• Medlem av IUPAC